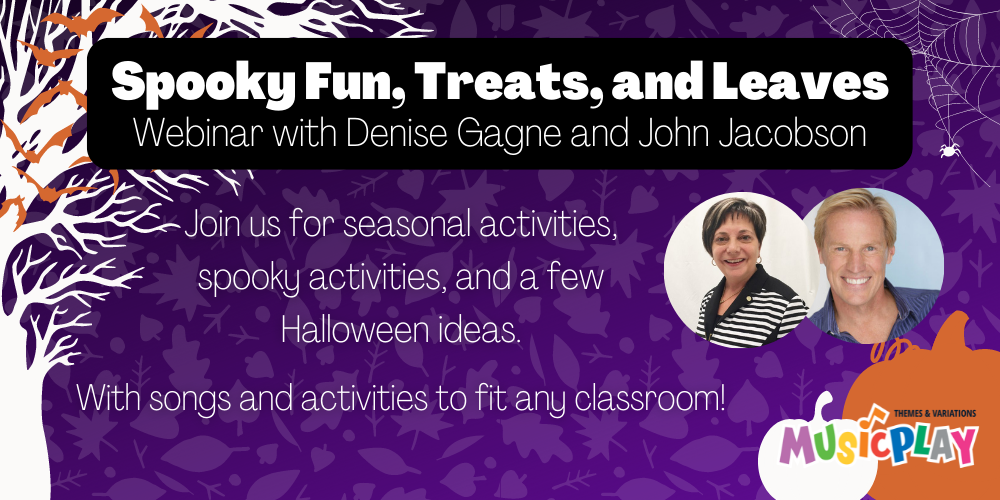 MusicplayOnline has many FUN activities for October. If you celebrate Halloween - or if you don't - there are fun activities for your students.
The song Pumpkin Fat is fun for K-1.
It uses just so-mi, so it can be used to teach K students high-low and for Grade 1 can be used to teach that the higher sound is called so and the lower sound mi. A series of interactives help to teach/reinforce this.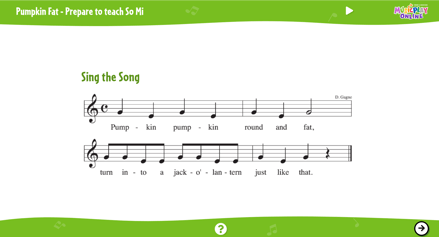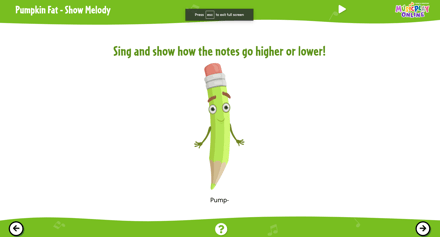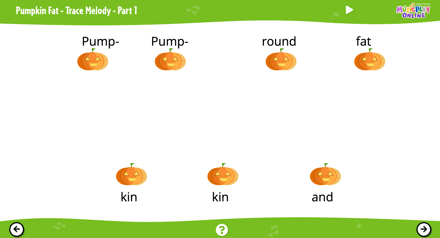 For Kindergarten or Gr. 1 classes, the Pumpkin Fat singing game is a lot of fun!
Now, there's a trace and color worksheet to help students begin to write as well as read music notation.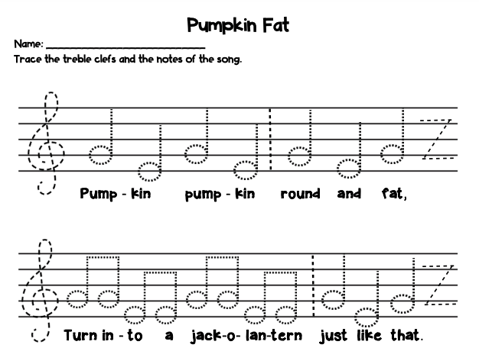 Model how to create the word rhythm with the interactive.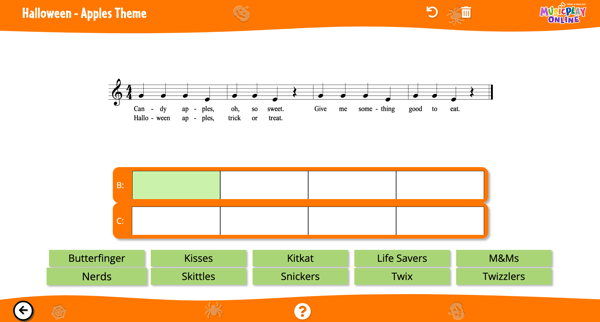 This is found in UNITS-Holidays-Halloween - Halloween Rondos

A new set of words has been written for the little song:
"Candy apples, oh, so sweet.
Give me something good to eat."
There are 3 ways to teach this lesson.

#1 - do this as a class using the interactive above. It's always a good idea to model first!

#2 - give the students a copy of the worksheet and have them write their treat choices in the box.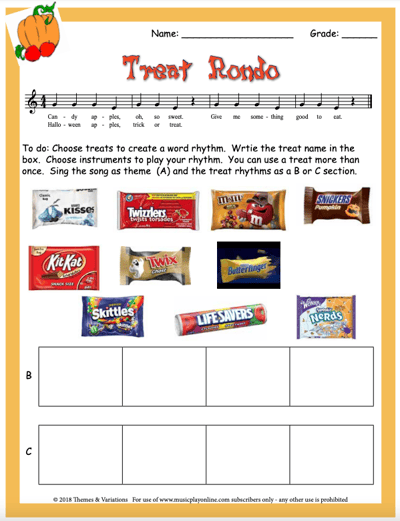 #3 - give the students a set of treat cards and have them create their own pattern with manipulatives.
I like to model with the interactive, then give students manipulatives (vs worksheet).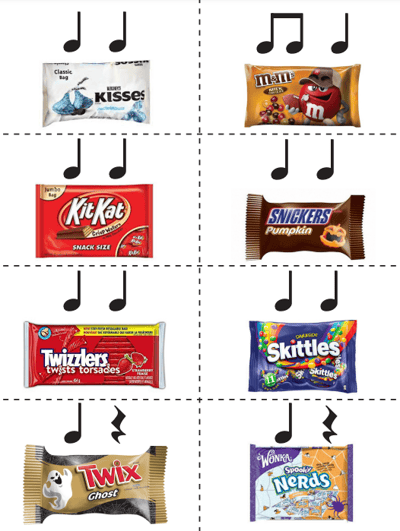 I put the creating cards into a ziplock bag or a white CD envelope and re-use the manipulatives each year.

Sing the simple song as the A section, then the student treat rhythms become the B, C, D sections.

You can have kids work together in small groups if you wish.
Create a story with sound effects is a very popular Halloween/Spooky activity.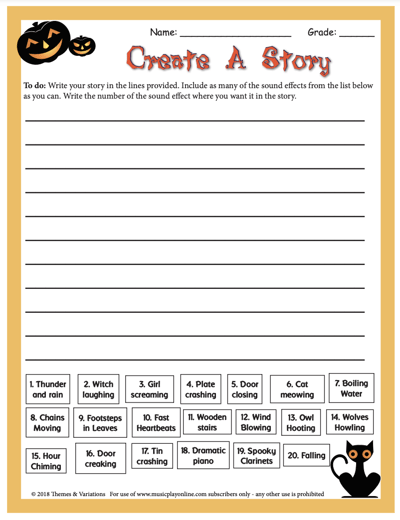 You'll find all the sound effects in UNITS-Holidays-Halloween -Halloween Sound Effects.

There is a story that you can use as an exemplar.
Then, invite students, or groups of students to write their own stories.
Halloween/Spooky Songs, Singing Games Musicplay Pk-6
There are songs for October (Halloween/Spooky) in all grades.
Alternate words are given for any songs that say Halloween or witches.
We want to be inclusive so all students can participate!
PreK:

26. Eensy Weensy spider
30. Little Miss Muffet
31. Spider on the Floor
33. Bony Skeletons
34. Criss Cross Applesauce
36. Five Little Pumpkins (seasonal and Halloween)
Kindergarten:

31. October is Here
32. Pumpkin Stew
34. Brush Your Teeth
35. Halloween Looby Loo
36. Costume Fun
37. Pumpkin Fat
Grade 1:

27. Magic Spell - I Can Pretend
29. Bats and Cats
30. Monster Walk
Grade 2:

21. What's That Creature?
22. Birds and Bats
23, Pass the Witch's Broom
24. Witch's Stew - Icky Brew
25. Old Mother Witch
Grade 3:

20. Something's in my Closet
21. Skin and Bones
24. Pass the Broom
Grade 4:

21. Bats
25. There was an Old Witch
26. Pass the Pumpkin

Listening: Hobgoblin by Schumann
Grade 5:

18. Ghost of Tom
20. Skin and Bones
21. Lady in the Graveyard

Listening: Hobgoblin by Schumann
Middle School

20. Dry Bones
24. Oh My Darling Frankenstein
You can earn PD by watching our webinar on Spooky Fun and Treats here
Programs Available on MusicplayOnline:
By John Jacobson
By John Jacobson
By John Jacobson
By John Jacobson
By John Jacobson
By John Jacobson
By John Jacobson
By Denise Gagne
By Denise Gagne
By Denise Gagne
By Denise Gagne
Coming soon: Razz-a-ma-jazz!
Additional Resources published by Themes & Variations
These are available as downloads (or print/ship) at www.store.musicplay.ca
All are affordably priced ($20-40) and include perf/acc mp3s, piano/vocal scores, and musicals or reviews include scripts.
These include permissions to perform, and permissions to reproduce vocal scores or lyrics for your students.
Celebrate Around the World

This collection includes traditional and composed songs from many different cultures. You could use this as your winter concert, or you could teach the songs any time of year as part of a multicultural study
Festival and Holidays
Festivals and Holidays is a musical revue exploring celebrations around the world. The songs are unison or easy two-part suitable for classroom or choir, and staging is simple.
Snowtastic
This is a fantastic musical about our favourite season! Includes lyrics, script, performance/accompaniment tracks, and PDF to project. Use it as your holiday concert
Is Santa Smarter?
Is Santa smarter than the kids in your school? It's a Christmas musical/revue featuring your school's fifth graders on a game show with Santa as a celebrity contestant trying to win enough money to pay for the high cost of gas to power his sleigh.
The Best Gift Ever
The Buymore Shopping Mall has a contest - tell what the best Christmas gift is, and WIN that gift! The shoppers have many unique gift ideas - toys, candy, new teeth, slippers, and baking. But it's the Charity Bell ringer that has the best gift idea - a Christmas meal for the homeless.
Slapshot Santa Scores Again!
Santa dreams that he's scored a goal in the NHL and decides that he's going to practice hockey until he can play with his favorite hockey star.
Production on the Christmas toys falls further and further behind while Santa is out practicing his slapshot. The elves make some hasty phone calls and Santa's favorite hockey team flies to the North Pole to have an exhibition game.
Christmas Favorites
Thirteen songs for your class or choir that will be sure to be student favorites! The teacher's guide includes the piano/vocal arrangements for 10 songs, choreography suggestions for some, and reproducible student pages for 7 songs.

Includes Santa Claus is Comin' to Town, Grandma Got Run Over by a Reindeer
The Christmas Concert Idea Book
Would you like some drama in your Christmas concert without producing a full length musical? The 'Christmas Concert Idea Book' is a collection of skits and songs, each of which is suitable for a K-6 class (or choir) to perform at a Christmas concert.
Kinder Christmas Collection
Here is a collection of songs ready for your next Christmas concert! Your students will enjoy performing them, and their parents will love watching! This collection includes traditional favorites and original songs. You'll find something for everyone!
K-3 Christmas Concert Ideas
Do you need an idea for your K-3 class for a Christmas assembly or concert?
Here are 20+ ideas: Songs, plays, poems, reader's theatre, dances - each of which is suitable for a K-3 class to perform at a Christmas concert.
Happy Holidays

Happy Holidays is a collection of Christmas and Holiday songs. Not only have we given several traditional carols a fresh new sound by weaving together interesting medleys but there are also new carols to help you and your singers rejoice in a festive spirit this holiday season.
Chants de Noël

Each year teachers request music materials for French Immersion classes. This publication has wonderful unison or 2 part arrangements of seven Christmas songs for your French Immersion classes or your English school choir!
Holiday Songs for Guitar and Ukulele

This collection of holiday songs for Guitar and Ukulele includes arrangements of 40 Holiday, Christmas, and Hanukkah songs. Many of the arrangements are given in alternate keys, so they are all playable on both the guitar or ukulele and in appropriate ranges for children's voices!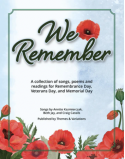 We Remember
Your Remembrance Day/Veterans Day assembly will be easy to plan when you use the songs, poems, and quotes in this collection. The entire collection is beautiful and very singable for young classes or choirs. The songs will be a moving tribute to all veterans.
Holiday Songs for Recorder

14 traditional and multicultural songs for unison, 2-part and 3-part soprano recorder. Includes 30 reproducible student pages in regular and "kid note" notation. This is an excellent way for you to incorporate recorders into your Christmas or winter concert.
Holiday Orff Source

NEW!!! The Holiday Orff Source includes 14 lessons using the Orff process and instruments that vary from simple songs for PreK-K-1 to accompany a storybook, to interesting instrumental arrangements for older students. The students will have opportunities in the lessons to sing, play, move, listen and improvise.