Boomwhackers? What do you do with them????
LINK TO New Online Resources! Musicplayonline will be free for the rest of this year and very affordable when we go to a subscription model. Try it now! If you have any trouble registering, be sure to let me know so we can get signed up. denise@musicplay.ca Link to site: www.MusicplayOnline.com
Artie and Denise – Shakin' it Up in Chicago July 6-8, 2016 Join Artie Almeida, Denise Gagne, Thom Borden and Dan Fee for a 2 day elementary music conference that will give you a wealth of ideas and inspiration for teaching elementary music classes. Close to Chicago airport – affordable hotel-GREAT workshop! LINK TO REGISTER USA SITE LINK TO REGISTER – CANADIAN SITE
Teach Music Reading with Boomwhackers
I remember the first time I saw Boomwhackers – it was at an MENC conference in Phoenix almost 20 years ago. They looked like fun – and they are! But what do you do with them?

Teach Music Reading with Boomwhackers is a new resource, that includes Rhythm Challenges to review rhythms, an introduction to staff and alpha-notes (note names right on the note head, colored Boomwhacker notation, and notation with no hints to have your students reading music quickly and competently! Best of all, projectable PDF files are included. We've formatted the projectables to fit the screen – like all of our Digital Resources, the music is large and easy to read. The PDF is interactive:the audio is embedded in the file so you just click on the play button.
Begin with the Rhythm Challenge to review or reinforce rhythm reading. First rhythms are echoed, then the students read them. Students echo rhythms, then have an improvisation section to create their own rhythms. Fun tracks accompany this!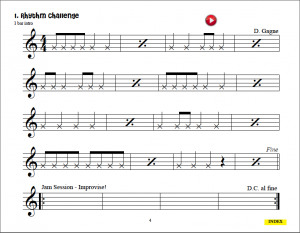 Introduce the staff to the students and how to name notes.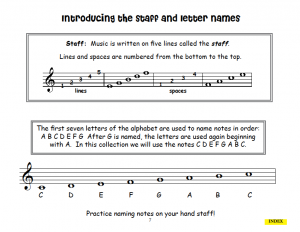 The song is given the first time with alpha-notes: the letter name is printed on the note.
The second time the song is given with colored notes.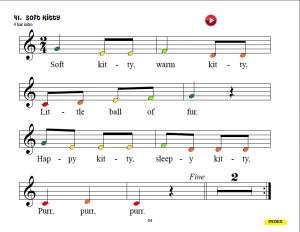 All students can be successful!
What a great way to introduce note reading before you begin teaching recorders!
Try it out! We've posted free samples at www.musicplay.ca – click the links below to download samples.
You can download Teach Music Reading with Boomwhackers or order the print copy. With each shipped order, we're given a set of note squares – this helps cover the shipping cost!
COMPOSING WITH BOOMWHACKERS
You can teach melodies, chords, or rhythms with Boomwhackers. When you use the pentatonic set (CDE GA C') you can use the Boomwhackers as a rhythm instrument, and improvise and compose rhythms with them.
There are many ways that you can have students improvise. Play a steady beat on a hand drum and ask all the students to improvise rhythms. Change meters. Play the beat in 2/4, 3/4, 4/4, and 6/8 meters. Try some improvisation in 5/4 and 7/4. Encourage the students to play the Boomwhackers® in a variety of ways – on hands, feet, shoes, desks, the floor, or elbows. They should use common sense when playing Boomwhackers on their body. I draw the line at playing the Boomwhackers on another student. (They are only allowed to play on their own body.) In the beginning, have everyone play at the same time. Then have students sit down and ask only those whose color is shown, to play. This is detailed in the collection, Composing with Boomwhackers. In this collection several songs are given with places in the song to have students improvise. This is one of them: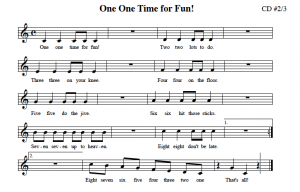 Composing with Boomwhackers includes note squares to help students begin composing rhythms. I've used these for many years – they are easy rhythm manipulatives to make (unlike lego rhythms which take hours and hours!) The book includes the note squares to copy and cut out. Make up sets of notes for various grade levels. I use ta, ti-ti and rest for K-2, and add more note values as students improve reading and writing abilities.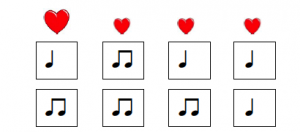 If I use half note note squares, they are two squares in length. A whole note is 4 squares long.
Once students have created the rhythm using squares, they transfer to a beat chart, then to a staff. The templates for beat charts in 4/4 and 3/4 are included in the resource.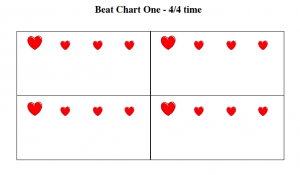 Two, three and four part ensembles are included for students to play, then students write their own. Some melody reading and playing is included in the resource – three note melodies, then pentatonic melodies to play and to create. The final activity in the resource is to have students create their own song.
Recorder Tips:
Teach Music Reading is a great unit to use to introduce notation to your students BEFORE beginning recorder. I like to start beginning recorder in January of 4th grade. The students have better fine muscle co-ordination by 4th grade, and they progress as quickly in 2-3 classes as they would have in 5-6 lessons (or more) in 3rd grade. My 5th grade students played recorder in 4th, and in 5th I like to start them on ensembles. I use the Recorder Resource Kit 1 for 4th, and the Recorder Resource Kit 2 for 5th. The Recorder Kit 2 has 24 songs for 2 part soprano with optional alto. Themes & Variations publishes many additional collections for recorders. The Big B-A-G Book has 19 songs using just BAG, including a theme and variations on Hot Cross Buns. It's great for years when students have trouble reading more notes than just BAG.
Recorder Links Canada Recorder Links USA
MUSICPLAY K-6 ELEMENTARY MUSIC CURRICULUM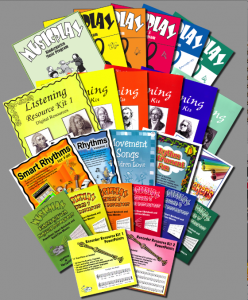 Musicplay is an award winning music curriculum for elementary schools. Musicplay is a sequential curriculum with lessons that follow the calendar year. The weekly lesson outlines the new concepts that will be taught, those that will be reviewed, and include seasonal and holiday repertoire. The planning is done for the teacher!
Important concepts are taught through play. Each week in Grades 1-5 a new singing game is featured. Children love music games. This is a text that will have your students really excited about learning music! The songs and games are chosen to teach musical concepts, to teach children about cultures around the world, and to provide songs for special days and performances throughout the school year. The most important factor in selecting songs for this series is that songs appeal to children! In addition to printed teacher's guides and Digital Resources Disks, there is now an online resource. The online resource is free to use until June, 2016 and will be an affordable subscription ($149/year) after that. There is a wealth of materials on this site. LINK TO MUSICPLAYONLINE.COM