The Nutcracker and Using Handel's Last Chance in the Music Classroom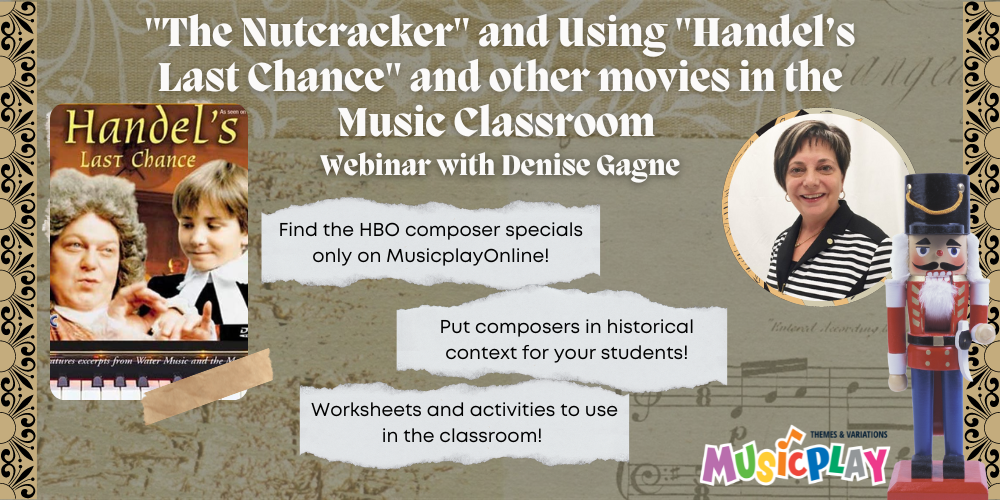 The Nutcracker is a holiday favorite. MusicplayOnline has lessons for teaching the story of the Nutcracker, and many of the movements. These can be holiday performances OR they can be fun holiday lessons. In the Wednesday webinar, I'll do many of the movement activities, and share some of the play alongs and written activities.
Where are The Nutcracker and Handel's Last Chance?
In our Listening Units. You can find these by follows:
Left Menu - select UNITS, then select Listening Units
1. The Story, the Composer
learn about the story of the Nutcracker

learn about the composer.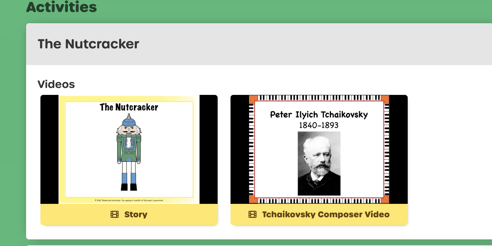 2. Tea Dance
Listening map (flute/pizz. strings)
Move like mice with flute, like soliders with pizz. strings
Listening Log
Rhythm play alongs

1st - animated instrument play along ta titi
2nd - animated instrument play along with ta, titi, sh
3rd - animated body percussion play along
Move with red, white, green plates to the music
Demo of plates with the music
Kids demo of movement with flashlights

3. Dance of the Sugar Plum Fairy
Listening Map introduces form, instruments

Paper Plates
Listening Glyph
Animated play along
Compare and contrast styles

listen to two very different arrangements and compare them

Demo of kids playing along
Very cool flashlight idea sent by one of our Musicplay teachers

4. Dance of the Mirlitons (Reed Pipes)
Listening Log
Animated Play Along with sticks, triangle, drum (or B/P)
Flashcard Play Along
Form play along

5. Trepak
Listening Log
Score Play Along
Animated Play Along
Movement with Scarves class demo
Movement with Scarves black light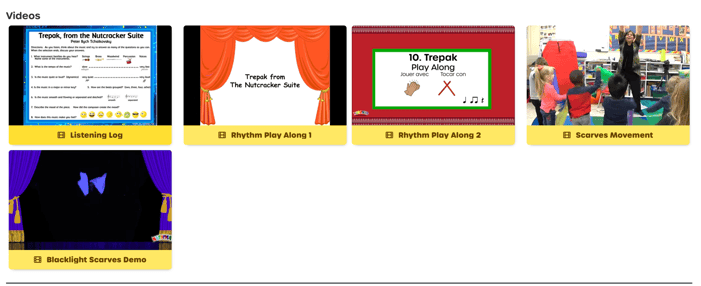 6. Waltz of the Flowers
Listening Log
Movement with Paper Plates
Note: we've created a shortened version (about 2 min.) of this. The audio of the short version is available to download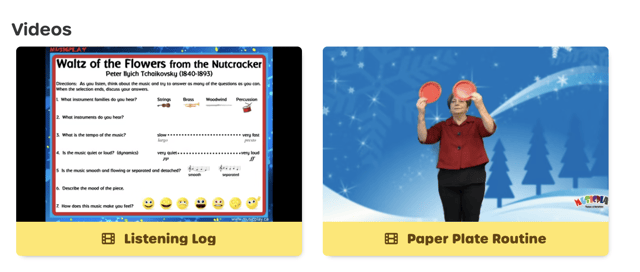 7. March from The Nutcracker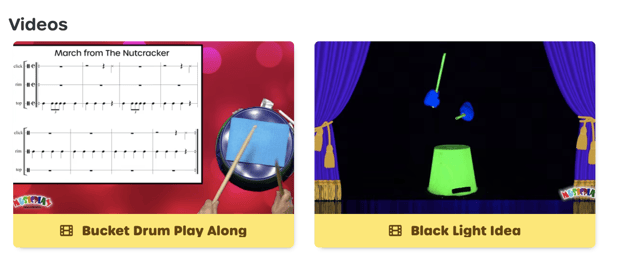 Did you know that Musicplayonline has aquired exclusive rights to the Composers Specials videos?
These made for HBO 50 minute videos put the lives of these composers into context. Filmed in period costumes, with gorgeous sets, these well researched films are a great way to introduce these composers to your students.
Handel's Last Chance is set during the time that Handel wrote Messiah. It ends with the Hallelujah Chorus - and in Musicplay 4 we have a 2 part of arrangement of Hallelujah chorus to teach your students.
We have two sets of worksheets to accompany the video - and these are much better than any I've seen!
Level 1 Worksheets Available for Handel's Last Chance

1. Booklet Cover
Color Handel
2. Synopsis of the Video
The video is set during the time that Handel wrote Messiah in Dublin. He wrote the work in 18 days, and the first performance was a charity concert to benefit people who were in debtor's prison.
In the movie Handel's Last Chance, Handel got Jamie's mother out of debtor's prison - these movies are very much based on historical facts, as well as including a story about a child.

3. Biography of Handel
4. Vocabulary Worksheet (Level 1)
5. Discussion Questions
You could invite students to complete this as a written assignment OR use them to discuss the film.
We've made a slide show with screen shots from the film, because it's easy to miss some little details. The slide show also includes discussion questions. Use the slide show to review the plot and better understand the film.
Slide show review and discussion questions.
I've found this really helpful to remember and understand many of the details in the film.
6. Respond to the film
7. Listen and respond to the music
Listening selections by Handel can be found by searching "Handel" in the listening kits.
8. Then and Now
Compare when Handel lived to now
9. Show what you know - Assess the learning
10. Color the Performance
Watch our webinar on The Nutcracker and using Handel's Last Chance in your classroom here!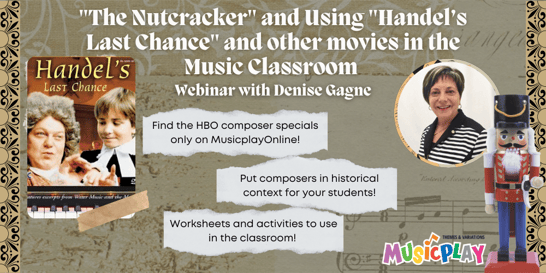 Programs Available on MusicplayOnline:
By John Jacobson
By John Jacobson
By John Jacobson
By John Jacobson
By John Jacobson
By John Jacobson
By John Jacobson
By Denise Gagne
By Denise Gagne
By Denise Gagne
By Denise Gagne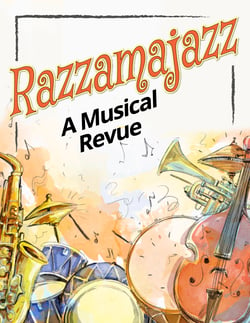 By John Jacobson
Additional Resources published by Themes & Variations
These are available as downloads (or print/ship) at www.store.musicplay.ca
All are affordably priced ($20-40) and include perf/acc mp3s, piano/vocal scores, and musicals or reviews include scripts.
These include permissions to perform, and permissions to reproduce vocal scores or lyrics for your students.
Celebrate Around the World

This collection includes traditional and composed songs from many different cultures. You could use this as your winter concert, or you could teach the songs any time of year as part of a multicultural study
Festival and Holidays
Festivals and Holidays is a musical revue exploring celebrations around the world. The songs are unison or easy two-part suitable for classroom or choir, and staging is simple.
Snowtastic
This is a fantastic musical about our favourite season! Includes lyrics, script, performance/accompaniment tracks, and PDF to project. Use it as your holiday concert
Is Santa Smarter?
Is Santa smarter than the kids in your school? It's a Christmas musical/revue featuring your school's fifth graders on a game show with Santa as a celebrity contestant trying to win enough money to pay for the high cost of gas to power his sleigh.
The Best Gift Ever
The Buymore Shopping Mall has a contest - tell what the best Christmas gift is, and WIN that gift! The shoppers have many unique gift ideas - toys, candy, new teeth, slippers, and baking. But it's the Charity Bell ringer that has the best gift idea - a Christmas meal for the homeless.
Slapshot Santa Scores Again!
Santa dreams that he's scored a goal in the NHL and decides that he's going to practice hockey until he can play with his favorite hockey star.
Production on the Christmas toys falls further and further behind while Santa is out practicing his slapshot. The elves make some hasty phone calls and Santa's favorite hockey team flies to the North Pole to have an exhibition game.
Christmas Favorites
Thirteen songs for your class or choir that will be sure to be student favorites! The teacher's guide includes the piano/vocal arrangements for 10 songs, choreography suggestions for some, and reproducible student pages for 7 songs.

Includes Santa Claus is Comin' to Town, Grandma Got Run Over by a Reindeer
The Christmas Concert Idea Book
Would you like some drama in your Christmas concert without producing a full length musical? The 'Christmas Concert Idea Book' is a collection of skits and songs, each of which is suitable for a K-6 class (or choir) to perform at a Christmas concert.
Kinder Christmas Collection
Here is a collection of songs ready for your next Christmas concert! Your students will enjoy performing them, and their parents will love watching! This collection includes traditional favorites and original songs. You'll find something for everyone!
K-3 Christmas Concert Ideas
Do you need an idea for your K-3 class for a Christmas assembly or concert?
Here are 20+ ideas: Songs, plays, poems, reader's theatre, dances - each of which is suitable for a K-3 class to perform at a Christmas concert.
Happy Holidays

Happy Holidays is a collection of Christmas and Holiday songs. Not only have we given several traditional carols a fresh new sound by weaving together interesting medleys but there are also new carols to help you and your singers rejoice in a festive spirit this holiday season.
Chants de Noël

Each year teachers request music materials for French Immersion classes. This publication has wonderful unison or 2 part arrangements of seven Christmas songs for your French Immersion classes or your English school choir!
Holiday Songs for Guitar and Ukulele

This collection of holiday songs for Guitar and Ukulele includes arrangements of 40 Holiday, Christmas, and Hanukkah songs. Many of the arrangements are given in alternate keys, so they are all playable on both the guitar or ukulele and in appropriate ranges for children's voices!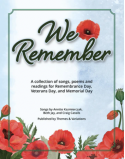 We Remember
Your Remembrance Day/Veterans Day assembly will be easy to plan when you use the songs, poems, and quotes in this collection. The entire collection is beautiful and very singable for young classes or choirs. The songs will be a moving tribute to all veterans.
Holiday Songs for Recorder

14 traditional and multicultural songs for unison, 2-part and 3-part soprano recorder. Includes 30 reproducible student pages in regular and "kid note" notation. This is an excellent way for you to incorporate recorders into your Christmas or winter concert.
Holiday Orff Source

NEW!!! The Holiday Orff Source includes 14 lessons using the Orff process and instruments that vary from simple songs for PreK-K-1 to accompany a storybook, to interesting instrumental arrangements for older students. The students will have opportunities in the lessons to sing, play, move, listen and improvise.