St. Patricks Day Lesson Ideas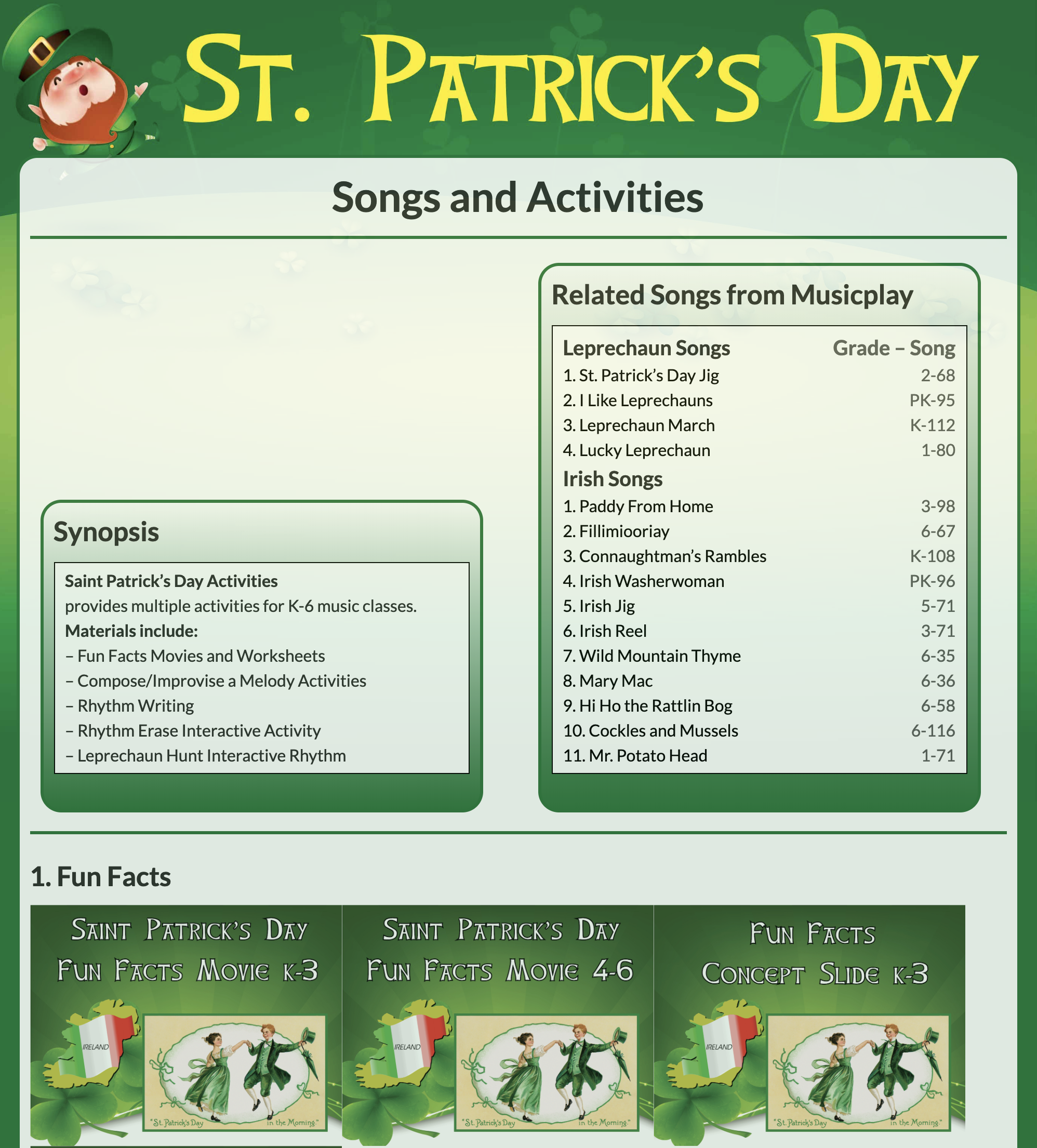 We are LOVING the new St. Patrick's Day unit on Musicplay Online. There are so many amazing lessons, projectable materials, worksheets, movies and games. This week to get you started we will share a teaching process for using the melodic composition lesson. There are two lessons available on Musicplay Online and many options are provided to meet the needs of your students!
Catch a Leprechaun:
St. Patrick's Day Unit on Musicplay Online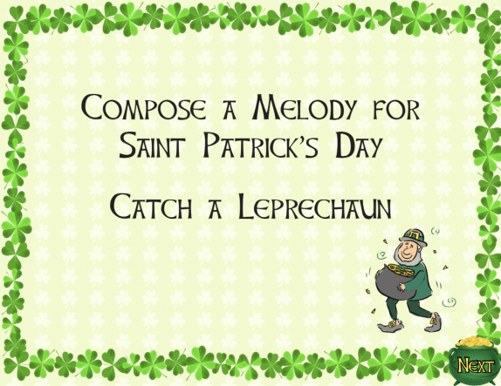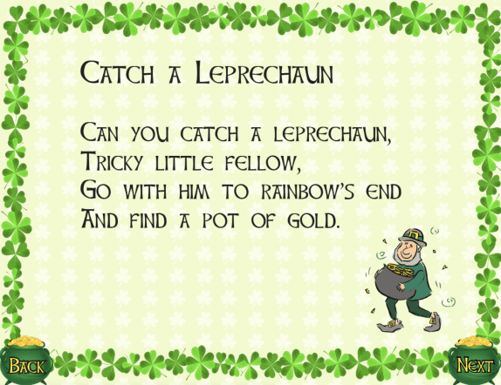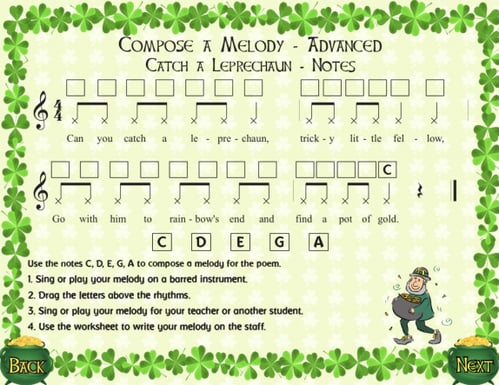 Grade Level:
Grades 1-5. Options are provided in the online material to meet the needs of a variety of grade levels.
Objectives:
Compose a melody (individually OR as a class) using solfa or standard notation (note names).
Sing a melodic composition OR transfer to pitched percussion instruments.
Write a melodic composition on the musical staff.
Materials Needed:
Projectables materials from Musicplay Online Subscription.
Worksheet printable (included in the link below).
Process:
Select a tone set or notes appropriate for your students. The online lesson has the options of so-mi, do-re-mi, do-re-mi-so-la, C-D-E, and C-D-E-G-A. If using solfa, warm-up by singing solfa echoes and handsigns using the tone set you have selected.
Teach the poem by rote, having students echo you one line at a time.
Keep the beat using various levels of body percussion (snap, clap, pat, or stamp) and say the poem.
As a class, use the online projectable to create a melody using the words of the poem. Drag the solfa or notes into the boxes above the rhythmic notation.
Practice singing your creation as a class. Add movement or solfa hand signs to show how the melody moves high and low. Make changes as needed.
Once students are comfortable with the melody, transfer to pitched percussion instruments. You can do this by passing around a few glockenspiels or other barred instrument in a circle, therefore having only a few students trying at a time. If you have enough instruments for a whole class, you can all try at the same time. Suggest students play with the tips of their fingers first or use the back of the mallets (so it isn't too loud). Remind students to sing while they play.
Extension Activities:
Student can try the above activity on their own. If students are able to write notes on the musical staff, they can complete the worksheet below.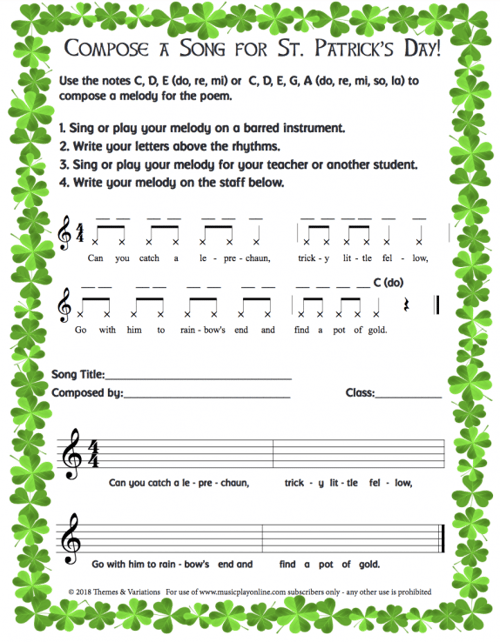 Click here to download this worksheet for free!
Assessment:
Video students playing their creations. You can also use the worksheet provided as an assessment tool.
This and so much more in the NEW St. Patrick's Day Unit on MusicplayOnline:
1. Fun Fact Concept Movies: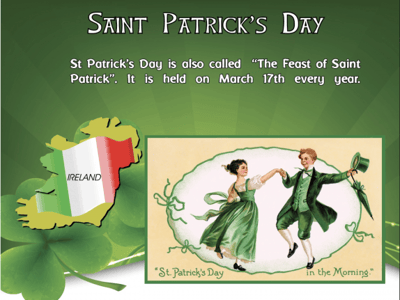 2. Compose a Melody – Ireland: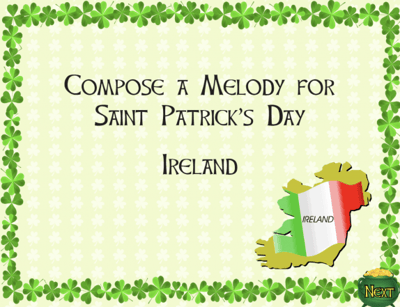 3. Compose a Melody – Leprechaun: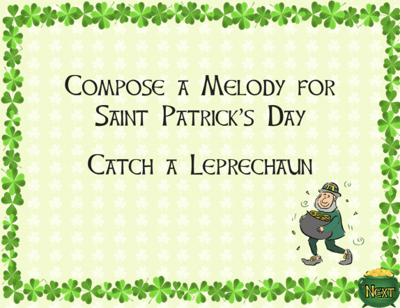 4. Improvise a Melody:

5. Phrase Rhythm Writing: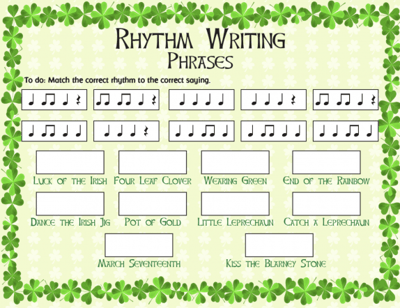 6. Irish Jig: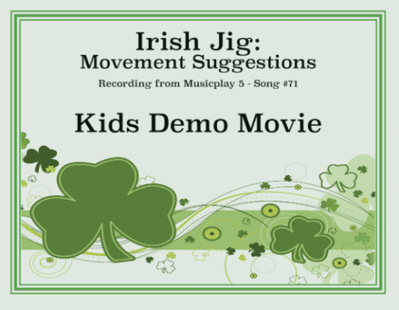 7. Rhythm Erase Game:
8. Leprechaun Hunt Game: