Are you doing assessments for your end of the year report cards? One of the areas that I want to assess is how well children perform music in choirs, Orff ensemble, on unpitched instruments, recorder, ukulele or guitar.
Assess a Choral Performance
When you're conducting a choir, it's almost impossible to assess the performance of an individual child during the performance. But you can video the performance, and use it to assess some aspects of performance.
* are students watching the conductor?
* do students use good posture in performance?
* are students singing with an open mouth?
Discuss the Performance with your Students: (Musicplay 3, song#1)
– "Did we use good diction?"
– "What could we do to help the audience hear our words more clearly?"
– "How can we sing softly and stay in tune?"
– "Did we all breathe in the same places?"
– "Did we sing the phrases the same way?" "Did we start and end phrases together?"
– "Did we match pitch?"
– "Did the voices sound nicely blended, or were there individual voices that you could hear?"
– "Were the vowels pure?"
– " Was the tone pleasant, open and resonant or was it sometimes "shouty"?"
– "Did the class maintain a steady beat and perform rhythms accurately?"
– "Could you hear the dynamic contrast at the end of the song?"
Ask the students to think of compliments and comments about their own performance.
I NOTICED……….. I WONDER……….
Brian Burnett suggests the use of the words "I noticed" and "I wondered" when making comments about performances. I liked this because it frames statements in a positive way.
THREE STARS AND A WISH
Another way to assess performances that I like is 3 stars and a wish.
If a group has performed in class, invite students to share 3 things they liked (3 stars) and a wish for what they might do differently.
* . ______________________________________
* . ______________________________________
* . ______________________________________
I wish ____________________________________
Quick self assessment for students:
Show me your fingers. Ask them to hold them against their heart, so it's just between you and them.
4 fingers – I did an awesome job
3 fingers – I did pretty well
2 fingers – I tried my best, but made mistakes
1 finger – I could have tried harder and could have done a lot better

Part of an assessment or a performance can be a student self-evaluation:
Student Self-Evaluation of Choral Performance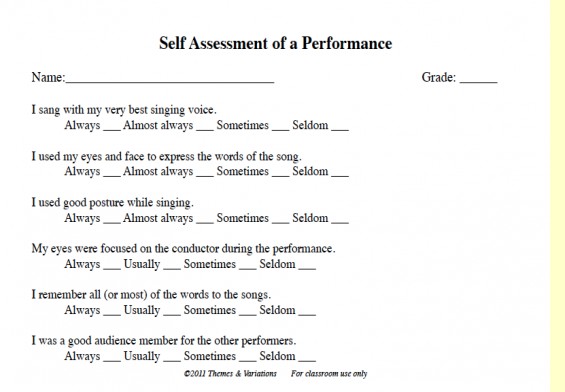 3 Second Listen
Part of the Assessment might be done in rehearsal. I use the 3 second listen for large groups or for a very quick assessment. I have the class line up in class list order. (alphabetical). Then I have them sing as a group, often with a recording. I walk up and down the rows listening to each child for about 3 seconds, and record their grade on my class list.
X = excellent
VG = very good, with a few pitch slips
S = satisfactory – somewhat close, but is not fully in tune
NY = not yet – the child is wildly out of tune, speaking or not trying
Teacher Assess Orff Ensemble
I've used this rubric to assess performance in an Orff ensemble.
If possible, video the performance, then assess each child.
And you can have students do a self-assessment.
Student Self-Assessment in Orff Ensemble
Recorder Solo Assessment
This is a very detailed assessment. I'd probably only use this once in a term.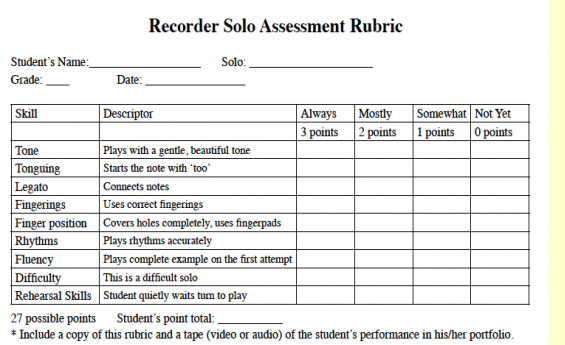 To the Teacher: Since it is very time consuming to assess a complete performance of a solo by every child, assess one skill in isolation every week and assess only 1-3 solos or parts of solos per term. I seat my students in alphabetical order, and grade directly to my class list. Instead of calling attendance, I identify the skill to be performed, and give them a short exercise to perform it on. For example, I assess tonguing on a short rhythm pattern:ta ta ta ta | too-oo too-oo I can assess legato connections at the same time. I assess rhythm reading by holding up rhythm flashcards and having each child read one. Pencil and paper exercises are given in the kit and should be marked and grades recorded. Use the mad minutes as a tool to assess note names by cutting off the top part and having students complete them in a given time (I use 3 minutes).
This is a much quicker rubric to use:
Rubric for Assessing Student Playing:
1 – Plays correct notes and rhythms with excellent tone, legato tonguing, breath control, and posture
2 – Plays correct notes but is missing one or more of the following: accurate rhythms, excellent tone, tonguing
3 – Plays most of the notes correctly but is missing two or more of the following: accurate rhythms, excellent tone, tonguing
4 – Plays few of the notes and rhythms correctly
Assessment is a big topic and these are just a few of the ways that you might use to assess performance. Share your ideas, rubrics and videos on the
Musicplay Teachers Facebook Group!
Purchase our great set of Melody Flashcards
USA and International – Melody Flashcards
Purchase the Print version of Match the Melody, with many printable assessments and projectables:
Purchase our great set of Rhythm Flashcards
TeachersPayTeachers – Rhythm Flashcards
Order Cardstock Flashcards – USA
Purchase Which Rhythm Do You Hear?
Follow #musicplayonline on instagram, twitter, Pinterest