New Programs for Concerts with John Jacobson and Denise Gagne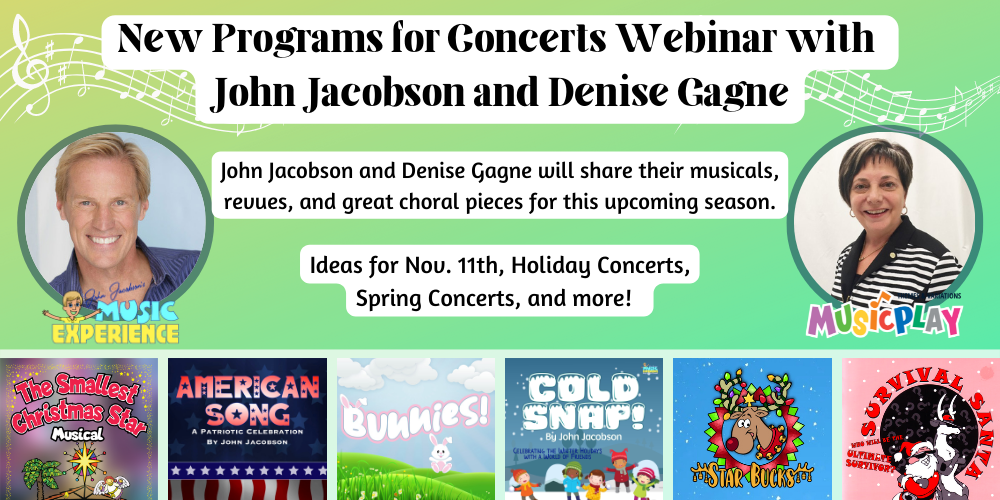 How far ahead to you plan your programs? We have new options this year from John Jacobson's JJ&Me site and from Musicplay! You'll get ideas for Nov. 11th, Holiday Concerts, and Spring Concerts. John Jacobson and Denise Gagne will share their musicals, revues, and great choral pieces for this upcoming season.
There are now eleven programs on MusicplayOnline - five for holiday concerts and six for any time of year.
Cold Snap
Might be accurately title Cold Snap Around the World


Cold Snap is a new multi-cultural holiday musical celebrating Hanukkah, Kwanzaa, Las Posadas, and Christmas. What do you do when you're stuck at school due to a sudden cold snap? Of course, share your customs and traditions with each other and celebrate the festive season together.
Toyland Toybox

Cold Snap

Story of the Hanukkah (lively, fun choreography)

Las Posadas – like choreography

Kwanza Tonight – lively, good moves, like this (throw confetti..)

There is Hope in the Air This Christmas

The Holiday Swing
Suggested Grades: Upper Elementary!
Star Bucks
This is a great show!
Ever wonder what would happen if Rudolf's nose is unable to shine? Well, look no further, this brand new musical has all those answers and more!
Shine

Stressed – lots of parents will relate

One Star – ballad, singing to Santa

Star Bucks Jingle - Fanfare for audition

Dancer – fun choreography – like Fred Astaire, one deer show

Prancer – cute

Reindeer Rap – kids will love this
Cookies! The Musical
Here's a fantastic K-2 musical celebrating togetherness and friendship as well as learning to accept each person for their differences. Through the eyes of a cookie bake sale, these cute and whimsical cookie characters come to life for your audience.
A Baker's Round

My Batch

Who Wants a Cookie

New Friends

Hip Hip Hooray

Bow Wows
Suggested Grades: K-2
Survival Santa
Santa has a problem - He's a million dollars over budget! The only way he can think of to come up with a million dollars is to be a contestant on Survival III at the North Pole. In the end, the final contestants decide that it's better to work together than to compete and Santa gets the money to finish the toys in time for Christmas.
Reindeer Love to Boogie

Fill my Stocking

I am a Candy Cane Kid

Santa Claus is Cool

Snowy Day

Snowboarding Santa

Working Together

We Wish You a Merry Christmas
Suggested Grades: K-5
Can be used as an all school concert.
The Smallest Christmas Star
This short musical (approx. 20 min) tells the Christmas story from the point of view of the Christmas star. It's a cute story with lots of humor and lovely songs.
Just Try

Shining on the Earth

The Road to Bethlehem

Glory to God in the Highest

Little Star
Bunnies!
Here's a hippety hoppety good time for your K-2 singers. Featuring a story of sharing… and of course bunnies, this folk dance field frolicking NEW musical will be an audience hit.
The Bunnie Song

Friendship Song

How!!

Adorable

The Bunny Hop
Suggested Grades: K-2
This is SUPER CUTE!!! It's Adorable!
Big Dreams
Bringing together the music of past and present JJ and Me songs and arrangements, Big Dreams celebrates a young persons dreams and desires. The script provides you, the educator, the opportunity to highlight or select other songs to weave into the materials.
Where Our Dreams Begin ©

Big Dreams

Everybody Say Yes

Rockstar

I Shall Not Be Moved

Suggested Grades: 2-5
American Song: A Patriotic Celebration
Here is a brand new musical review with a John Jacobson original script featuring patriotic song and originals. The script views our nation's history focusing on the question: What is the American song?
We the People

I Shall not be Moved

Soldier, This Song I Sing for You

Give my Regards to Cohan

Big Dreams

Hold Onto Your Dreams

American Song
Suggested Grades: Upper Elementary!
Just Sing!
Theming many of our inspirational and pop hits, here is another original review highlighting friendship, kindness, and greatness.
Three Little Birds.©

Gimme Gimme (JJ) or Dynamite©

Operation New Me©

Hold Onto Your Dreams (JJ) and/or Be a Light©

Stand Up©

Live Laugh Love (JJ)

Just Sing©
Optional Encore: Sing Our Song (JJ) or Sky Full Of Stars© (Coldplay)

Suggested Grades: Upper Elementary!
Note - printed scores are not online for copyright songs (©). We will give links to sites to download lyrics, and encourage you to teach the songs by rote, using the lyrics. Acc/Vocal mp3s are provided.
The Best Pet Show Ever
This 20 minute K-3 musical is about pets and pet owner responsibility. Sing about cats, dogs, bunnies and snakes.
We're Having a Pet Show

My Cat

My Dog

I Don't Have a Pet

My Charming Snake

The Bunny Hop

Let's Hear it for the SPCA!

Pet Owners Rap

We Had a Pet Show
Suggested Grades: K-3
We've Only Got One Planet
A musical revue that teaches kids (and grownups) about environmental concerns.
One Planet

Garbage

Compost

Recycle

Let's Save Water

Walk, Run, Ride a Bike

Plant a Tree

Make a Difference
Suggested Grades: K-5
Can be used as an all school concert.
Additional Resources published by Themes & Variations
These are available as downloads (or print/ship) at www.store.musicplay.ca
All are affordably priced ($20-40) and include perf/acc mp3s, piano/vocal scores, and musicals or reviews include scripts.
These include permissions to perform, and permissions to reproduce vocal scores or lyrics for your students.
Celebrate Around the World

This collection includes traditional and composed songs from many different cultures. You could use this as your winter concert, or you could teach the songs any time of year as part of a multicultural study
Festival and Holidays
Festivals and Holidays is a musical revue exploring celebrations around the world. The songs are unison or easy two-part suitable for classroom or choir, and staging is simple.
Snowtastic
This is a fantastic musical about our favourite season! Includes lyrics, script, performance/accompaniment tracks, and PDF to project. Use it as your holiday concert
Is Santa Smarter?
Is Santa smarter than the kids in your school? It's a Christmas musical/revue featuring your school's fifth graders on a game show with Santa as a celebrity contestant trying to win enough money to pay for the high cost of gas to power his sleigh.
The Best Gift Ever
The Buymore Shopping Mall has a contest - tell what the best Christmas gift is, and WIN that gift! The shoppers have many unique gift ideas - toys, candy, new teeth, slippers, and baking. But it's the Charity Bell ringer that has the best gift idea - a Christmas meal for the homeless.
Slapshot Santa Scores Again!
Santa dreams that he's scored a goal in the NHL and decides that he's going to practice hockey until he can play with his favorite hockey star.
Production on the Christmas toys falls further and further behind while Santa is out practicing his slapshot. The elves make some hasty phone calls and Santa's favorite hockey team flies to the North Pole to have an exhibition game.
Christmas Favorites
Thirteen songs for your class or choir that will be sure to be student favorites! The teacher's guide includes the piano/vocal arrangements for 10 songs, choreography suggestions for some, and reproducible student pages for 7 songs.

Includes Santa Claus is Comin' to Town, Grandma Got Run Over by a Reindeer
The Christmas Concert Idea Book
Would you like some drama in your Christmas concert without producing a full length musical? The 'Christmas Concert Idea Book' is a collection of skits and songs, each of which is suitable for a K-6 class (or choir) to perform at a Christmas concert.
Kinder Christmas Collection
Here is a collection of songs ready for your next Christmas concert! Your students will enjoy performing them, and their parents will love watching! This collection includes traditional favorites and original songs. You'll find something for everyone!
K-3 Christmas Concert Ideas
Do you need an idea for your K-3 class for a Christmas assembly or concert?
Here are 20+ ideas: Songs, plays, poems, reader's theatre, dances - each of which is suitable for a K-3 class to perform at a Christmas concert.
Happy Holidays

Happy Holidays is a collection of Christmas and Holiday songs. Not only have we given several traditional carols a fresh new sound by weaving together interesting medleys but there are also new carols to help you and your singers rejoice in a festive spirit this holiday season.
Chants de Noël

Each year teachers request music materials for French Immersion classes. This publication has wonderful unison or 2 part arrangements of seven Christmas songs for your French Immersion classes or your English school choir!
Holiday Songs for Guitar and Ukulele

This collection of holiday songs for Guitar and Ukulele includes arrangements of 40 Holiday, Christmas, and Hanukkah songs. Many of the arrangements are given in alternate keys, so they are all playable on both the guitar or ukulele and in appropriate ranges for children's voices!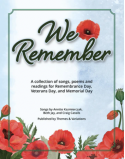 We Remember
Your Remembrance Day/Veterans Day assembly will be easy to plan when you use the songs, poems, and quotes in this collection. The entire collection is beautiful and very singable for young classes or choirs. The songs will be a moving tribute to all veterans.
Holiday Songs for Recorder

14 traditional and multicultural songs for unison, 2-part and 3-part soprano recorder. Includes 30 reproducible student pages in regular and "kid note" notation. This is an excellent way for you to incorporate recorders into your Christmas or winter concert.
Holiday Orff Source

NEW!!! The Holiday Orff Source includes 14 lessons using the Orff process and instruments that vary from simple songs for PreK-K-1 to accompany a storybook, to interesting instrumental arrangements for older students. The students will have opportunities in the lessons to sing, play, move, listen and improvise.